Butterfly valley is located at approximately 25 km from Rhodes town on the western coast of the island, or at 11 km from Diagoras airport if you prefer.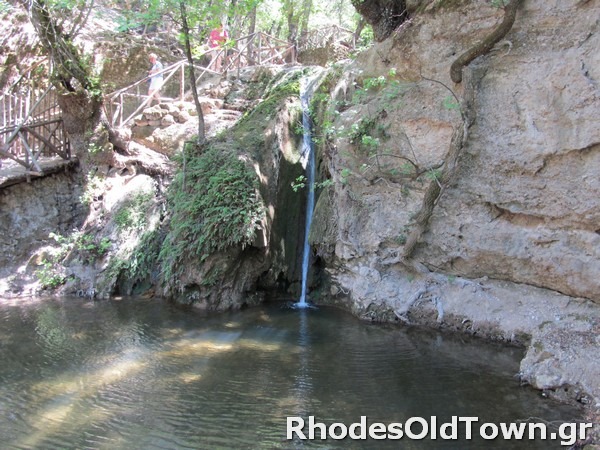 Butterfly Valley (Petaloudes Valley): a miracle of nature.
A unique for its flora and fauna reserve, a place of incomparable/exceptional beauty and point of reference for scientific observation, the Valley of the Butterflies captures the interest of hundreds of visitors every year.
The spectacular phenomenon of the Euplagia Quadripunctaria rhodosensis butterfly (commonly known as the Jersey Tiger moth) inhabiting the valley, takes place from July to September. Following /drawn by the distinctive scent of resin of the Oriental Sweetgum trees (Liquidambar orientalis) – also an endemic species of the local flora and one of a kind in the whole of Europe –, these fascinating nocturnal insects fly to the Butterfly Valley in thousands, seeking shelter from the heat resting alongside the stream banks and watery paths, on broad leaves and tree trunks, or even upon rock recesses in order to rest and reproduce.
A rather impressive feature of these marvelous creatures is their morphology which allows them to camouflage themselves against plants, tree branches, rocks and other surfaces; privileged by nature, they are often hard to notice.
Life cycle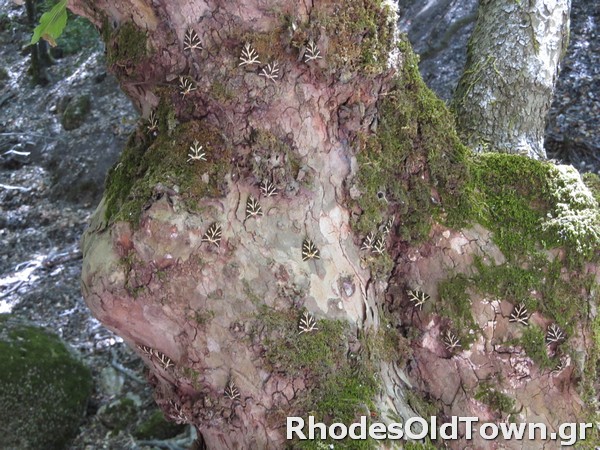 The eggs which are laid in early fall (September to November) on host plants, hatch within 8 to 15 days. The larvae (caterpillar) stage lasts up to 6 months whilst the passage to the pupae (chrysalis) stage takes up to a month.
The transformation in the fabulous butterfly occurs in May; the young adults follow the water paths until they reach the green, shady, humid valley where they mature and mate during the summer season.
As the butterflies are hypersensitive to any kind of loud voices, whistling, clapping etc. , visitors are advised to observe and approach as peacefully and quietly as possible, for any minimum noise is perceived by the insects as a direct life threat which can force them to massively fly away or even cause their instant death.
Sightseeing – exploring butterfly valley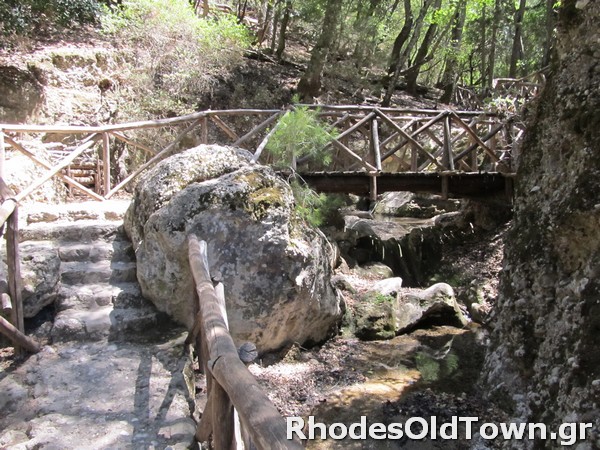 Wander throughout the dense vegetation where small ponds filled with water lilies and whispery waterfalls catch your eye, rest on wooden benches, cross picturesque bridges, or climb up to the top and reach at the end of the route the Monastery of Kalopetra built in 1784.
Conclude your butterfly valley tour by visiting the Museum of Natural History where among other features, a hatchery is stored: a unique sight of butterflies reproducing in perfect harmony with the micro-climate conditions.
A few steps below there is an Alpine style restaurant where you can spend some quality time with your family relaxing under the abundant greenery.
How to Get There
Taxi
Valley of the Butterflies TAXI Pricelist :
FROM:
| | |
| --- | --- |
| Rhodes Town 38 euros | Lindos 62 euros |
| Rhodes Old Town 38 euros | Pefkos 65 euros |
| Ialyssos 25 euros | |
You may be also be interested in :